Marketing and Merchandising for Fashion - Merchandising Specialization
---
Train to work in fashion. VCAD's specialization in merchandising will prepare you for rewarding work in retail and marketing industries.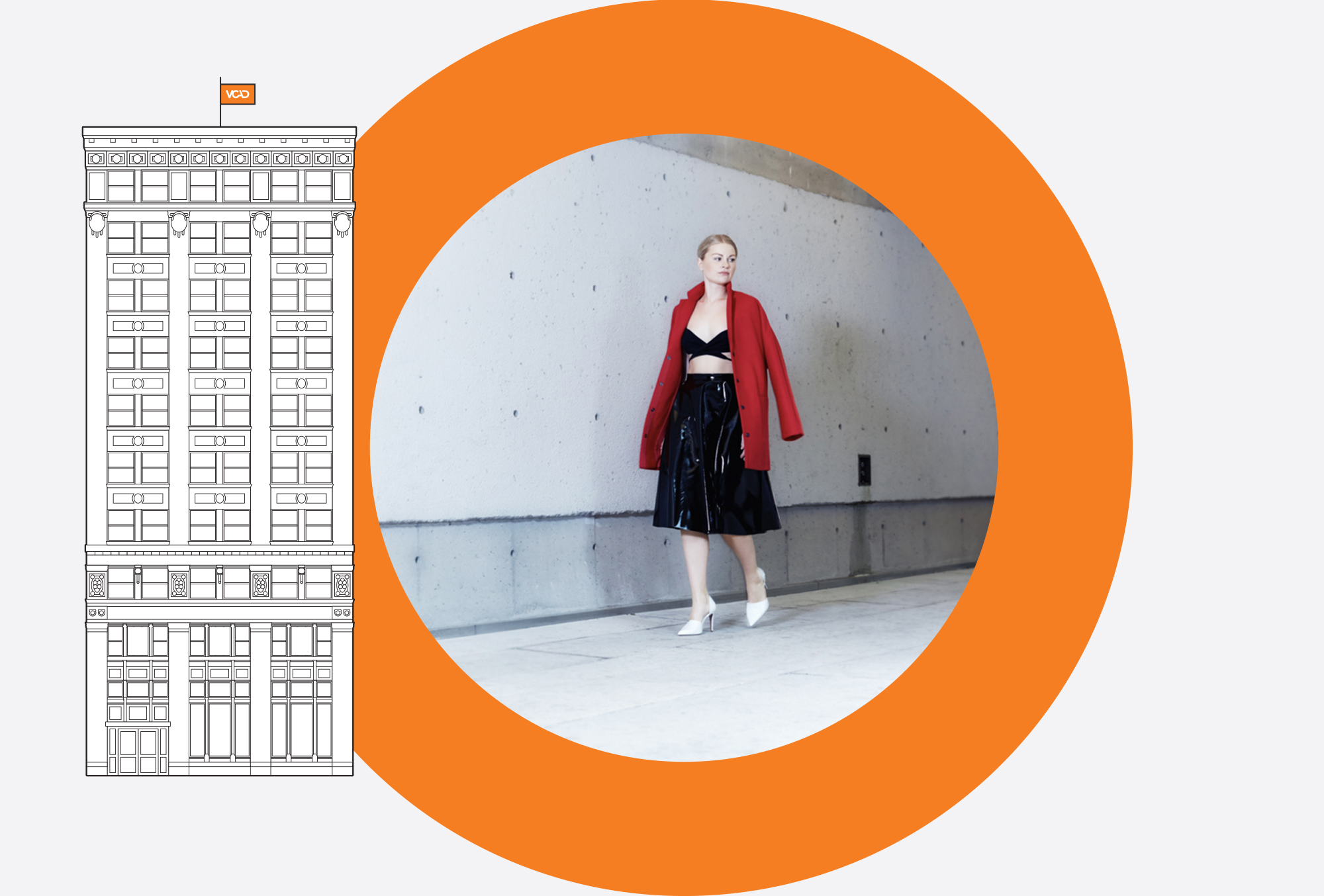 Our Marketing & Merchandising for Fashion Diploma - Merchandising Specialization prepares you to excel in the dynamic fashion retail field. Upon completion of the program, you will have the skills vital to success in fashion business and retail experience. The programs explores areas such as consumer buying, sales event and promotion, fashion styling, pricing, apparel production, and product and consumer merchandizing. You'll also develop a strong foundation in customer, and channel relationships, retail strategic planning, and the fashion product life cycle.
In your first four terms, you'll study essentials like Adobe Photoshop, Adobe Illustrator, fashion history, textiles, mathematics for retail, fashion forecasting, and brand development. In your final term, you'll delve even deeper into merchandising with courses such as Apparel Production, Store Layout & Planning, and Fashion Styling.
Job Opportunities
Fashion Merchandising & Buying
Retail Management
Fashion Marketing
Fashion Promotions & Publicity
Visual Display
Assistant Store Manager
Upon successful completion of this program, you will be able to:
Illustrate fashion design concepts.
Apply the knowledge and skills resulting from the study of modern fashion illustration concepts and techniques to present day marketing problems.
Provide a history of the influence of fashion on each generation of designers.
Deconstruct garments and finishing techniques.
Map different classifications of apparel to target markets and promotions.
Describe the product development, apparel production, and textile life cycles and the impact these have on successful merchandising and marketing.
Articulate the role of branding and private labels in generating sales.
Describe the role of costing and merchandise management on ROI.
Define retailing and explain the steps in strategic planning for meeting ROI.
Write, present, and critique plans and proposals.
Successfully participate and contribute to the success of a team.
Develop a professional network.
Admissions Requirements
Standard Admission
Alberta high school diploma or equivalent verified by transcript or DAR.
OR
A minimum of 50% in the following courses verified by transcript or DAR:
Math 30-1, Math 30-2, Pure Math 30, Applied Math 30 or equivalent*
English Language Arts 30-1, English Language Arts 30-2 or equivalent**
*Equivalents may include academic upgrading courses.
Mature Admission
Students must meet ALL of the following criteria:
Be at least18 years of age prior to admission (19 for out of province); and
Successful completion of the VCADAdmissions Test.
Manitoba applicants must also have been out of school for one year in addition to the above
Discover
Learn from VCAD graduates what it's like to study fashion.
Get Started Now
Student Success Strategies

The purpose of this course is to provide students with the knowledge, skills and study techniques to help foster effective learning and a positive educational experience. The course will cover the importance of values, their relationship to goals and goalsetting. Strategies for setting personal goals, prioritizing tasks, managing time and the stress that results from study or work situations will be explored and practiced through active participation in learner centered activities. Effective study habits,techniques for preparing for tests and productive note taking strategies are key topics of this course that will provide the students with the necessary skills and attitudes to be successful in school. Having a sound understanding of financial, money, credit and debt matters and their implication on our lives is critical knowledge to have. Students taking this course will benefit from completing the Enriched Academy© program which provides comprehensive coverage of financial and money management skills that will allow them to better save, budget and manage their money and time.
Canadian Retailing

In this course, students will be introduced to the multifaceted aspects of the Canadian fashion retailing industry, including types of retailers, retail organization, fashion consumers, merchandise management and retail promotion. Each of these topics will be further explored in courses taken later in the program.
Colour & Design

Understanding colour and design principles through exploration and application across media, visual, and applied design genres. This course will introduce students to the fundamental principles of colour theory through design, such as layout, composition, balance, colour science as well as a diverse range of colour theories, and how to employ them creatively. These concepts will be reinforced through specific practical exercises, and activities that will serve to demonstrate how each of the concepts is integrated into functional, purposeful design.
Photoshop I

Understanding the application and importance of image editing and construction as a universal skill in all design genres. This course introduces the students to raster image-editing software such as Adobe Photoshop. Through this 'hands-on' course, the student will learn the fundamentals of design, as well as advanced features, and tips, to prepare images for digital output as well as for print. Emphasis will be placed on technical skills, however conceptual development, and creative thinking and approaches will also be considered in all work. By the end of this course, the student will be able to create, modify, and enhance sophisticated images using raster editing tools, and features; craft special effects; work in 3D space; and prepare files for export to various applications in web, mobile, print, and manufacturing.
Illustrator

In this course students will learn the basic Adobe Illustrator concepts and tools necessary to begin now and further develop in later courses technical packages in fashion such as technical drawings, retail floor plans, promotional materials, catalogues.
Sustainability

Sustainable fashion is becoming integral to fashion design philosophies, technologies, and trends in manageable sustainability. This means that the fashion industry has recognized that being socially responsible should minimize the human impact on the environment, on people, and can have a positive impact on the bottom line. In this course students will conduct market research examining political, economic, social, and technological sustainability issues using PESTLE analytical techniques.
Fashion Illustration

Fashion illustration is vital in the product development and marketing of apparel and accessories. Illustration represents the product visually: it is a form of stylized drawing that communicates not only an artistic representation but also a sense of style. In this course, students will learn the basics of this fashion art form: • Illustration as a form of fashion communication • Fashion illustration basics • Fashion body vs. human form • Croquis and technical drawings
Fashion Marketing & Promotion

Fashion Marketing is defined as more than just "selling": it is creating in the consumer the need and want to purchase fashion goods using a strategy of correct pricing and placement of goods, product offerings and promotional techniques targeted to the correct marketing segment. In this course, students are introduced to basic fashion marketing principles.
Fashion Writing

This course introduces the fashion marketing and merchandising student to various print-based media and how to develop the skills to write promotional as well as reporting material for fashion. The skills learned in this course will be further developed in coursework taken later in the program. Topical coverage includes: writing in the communication process; newspapers and fashion journalism; writing for fashion advertising; and new media and blogs.
Fashion History

Costume history is the history of fashion – trends, design influences, fabrications, style changes and developments, evolving technical elements and terminology of fashion. An overview understanding of fashion history and the place it holds in modern times is vital in the marketing and merchandising of current fashion apparel and accessories. Topical coverage includes: roles of costuming through the ages; influence of costuming on designers; fashion as an evolutionary process; costuming in fashion promotion, styling, product development, visual display.
Textiles

Students will explore both natural and synthetic fibers, their primary and secondary characteristics and properties, how fibers become fabrics, fabric names and usages, care, labeling, life and handling. Yarn production, weaves, knits, printing, dyes, and the new technologies in fiber production are examined. Trends in fabrication in the 21st Century are emphasized. Topical coverage includes: from fiber to fabric; manmade and natural fibers; primary and secondary characteristics of fiber; dyes, printing processes; knits, weaves and eco friendly technologies
Consumer Buying

This course explores the consumer buying process and the fashion industry: consumer behavior, internal and external factors influencing fashion consumers and consumer buying decisions.
Fashion Forecasting

Fashion forecasting is a process that includes knowledge of changing colours and styles, lifestyles and consumer buying patterns, and varying methods of retailing merchandise. Students will learn the components of fashion forecasting and how this affects decision making in the apparel industry. Topical coverage includes: the role of fashion forecasting in the textile apparel industries; forecasting techniques and technologies; and limitations of forecasting.
Fashion Public Relations

Public Relations (PR) is the management and marketing function that links the fashion business with the buying public. Publicity is a communication method that tells the public about an apparel line, an emerging designer, a service, event or idea. In this course, students will develop skills needed to generate effective PR in fashion. Topical coverage includes: effective and ineffective public relations; public relations in fashion marketing and merchandising; public relation planning, budgeting and scheduling; and news releases, media kits and public announcements.
Mathematics for Retail

In this course students will learn mathematical concepts and procedures and how they are applied to achieve profitable fashion retail merchandising.
Visual Display and Merchandising

Visual display and merchandising is the artistic staging that makes the shopper stop, look and buy. All promotional marketing ends up with this point of sale display of merchandise, therefore knowledge is vital to any student entering the merchandising or marketing retail environment. Topical coverage includes: role of visual merchandising in effective marketing; effective visual displays; planning and budgeting effective visual displays; mannequins and window displays; and in-store displays.
Brand Development and Management

This is an introduction to brand development and brand management within the fashion industry and related industries. The course will look at how brands are created, and how brand perception can be altered. Basic principles and techniques of branding will be addressed, such as logos, colour, semiotics, retail spaces, web presence, promotion and marketing, product development, brand alliances, language. Students will learn to identify a successful branding strategy, and will propose a new branding strategy to an existing brand.
Fashion Buying

Buying involves complex decision making, which involves fashion forecasting, consumer buying trends, vendor selection and negotiation, pricing, sales, inventory record-keeping and ordering. This course introduces students to retail buying and the role of the buyer who makes daily merchandising decisions. Topical coverage includes: responsibilities of a buyer; fashion buying for retail outlets; applying marketing research; merchandising mix; and buying plans, inventory control, and negotiation.
Product Development

Product development is a process that begins with a design concept and follows through to production. In this course, students are introduced to technical drawings, technical specification packages, production boards, garment design elements and product organizational flows, all of which are integral to the manufacturing, marketing and merchandising of apparel.
Fashion Promotion

Fashion shows are produced to sell merchandise! They are one of the most visual forms of promotion, making a statement to consumers at all levels from the retailers, buyers, manufacturers, and designers down to the fashion forward customer. In this course, students learn to plan and execute a fashion show as a promotional tool.
Business Communication

Fashion is an industry that involves teamwork and working with a diverse group of people, therefore effective communication skills are essential. This course focuses on written, verbal, and non-verbal communication skills as they apply to new media, resume writing, interview skills, customer service, the workplace, ethical and social responsibilities, and conflict resolution. Topical coverage includes: communication using new media; non-verbal and verbal communication; negotiation and conflict resolution skills; and fashion resume writing and interviewing.
Apparel Production

Fashion students will gain knowledge of ready-to-wear apparel production: critical paths, quality control, mass production techniques, garment sequencing, assembly and costing. Private labels and branding are also examined. Topical coverage includes: apparel production critical paths; production methods; garment sequencing; private label and branding; and industry standard product and garment specifications.
Fashion Retail Management

While fashion is a fast changing industry, what is constant is the demand for skilled and knowledgeable retail people and managers who have the ability to adjust to this fast paced industry. In this course students will focus on the real world essentials of management as they apply within the modern retail environment.
Store Planning & Layout

Store planning and layouts can transform the retail experience, whether it is a department store, a high end fashion house or a local boutique. Correct store positioning, interior design for merchandise assortments, and exterior design plus staffing help to attract customers and generate sales. In this course students will develop a theoretical and practical knowledge of store layouts, planning and design.
Portfolio

In this course, students will first develop a professional fashion portfolio demonstrating their skills in fashion marketing or merchandising.
Fashion Styling

Fashion stylists are responsible for organizing and preparing people, and assembling accessories and garments worn by models at a photo shoot. In creating "the look", stylists must be up-to-date in all aspects of fashion forecasting. In this class, students will learn what is involved in fashion styling, turning theory into practice while working on a real-life photo shoot and magazine spread which will become a portfolio piece.